Hi everyone,
How has your day been so far? It looks like I'm also going to have to take fall quarter off from school, as we just found out I was supposed to apply back in April, so I may not be going back until January. My first thought -- "What on earth am I going to do with myself until January??" Well, I always find something to do, and whatever happens is God's will for me, which means that the ultimate result will be a great one.(: I also had my hair cut today....I said, "Take off an inch." Now half of my hair is gone! I really do love my hair long, and I just wanted my split ends trimmed, but....oh well. I'll have fun experimenting with different ways to style it, and something cute is sure to come out!
Anyway...lately I've been playing around with painting, and while I love it, let me tell you that I am NOT a painter. My talents do not lie in that area, as I've discovered. But, this project turned out looking really awesome.
What did I do to make it look as though I'm an accomplished painter? I cheated.
I cut out some photos from magazines and glued them onto some cute little mini canvases I had bought, then took my paints and attempted to turn the photos into art nouveau paintings. Once I finished, it just looked just like a painting! Well...it is, but then again, it isn't. I don't even know what you would call this technique...haha.
But I love them.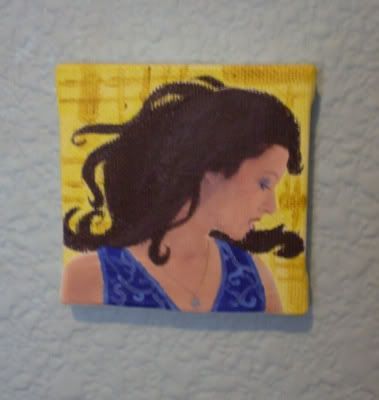 This was my first one...I gave her new hair, a new dress, and a bright yellow background.
This was my second one...and it's also my favorite. I really love how her hair turned out, along with her outfit. I'm also very proud of the clouds I painted in the background, haha. I always wanted to paint clouds!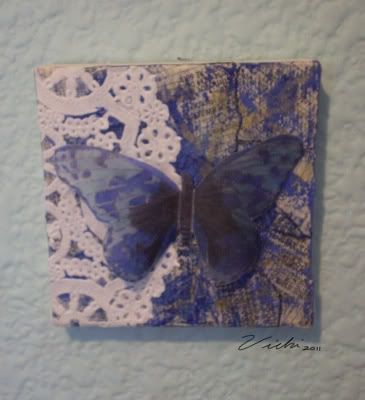 And here's the third one. This one is actually just a tracing paper butterfly with a collaged background. Once upon a time, it was meant to be a painting too, but somehow that painting ended up looking like a little kid's first self-portrait....it was really, really bad. So I covered it up, and made it into something pretty.(: I actually really like the end result.
Well, have a lovely day! Be sure and watch for my next post in my countdown to a hundred!(:
~Vicki