Hi everyone,
How is your summer so far? Here, it's just beginning...seventy degree weather, sunny or overcast. I like the cooler weather, though I had been looking forward to wearing more of my summer clothes...hopefully I'll have a chance to do that soon!
Do you remember the post I did, wow, almost a year ago on my
circle skirt
? Well, I made another one awhile back, using some vintage plaid fabric that I found at a thrift store for cheap. The fabric was a surprise to me because when I bought it, it was folded so you couldn't see the front, and the back was a brown color with a light plaid pattern. It wasn't until my mother washed it for me that I saw -- WOW, it's plaid! And I liked it a lot better, actually. I figured it was the perfect fabric for a circle skirt, and since it was heavy, it'd be ideal for cooler days. Also, it was a lot easier to hem than my first one because the fabric was heavier and didn't fray. The only tricky part came when I decided to put in a zipper...ummmmm....I don't know why, but zippers are not my friends. It turned out looking ok, but since it was my first zipper, it definitely wasn't perfect! I've improved my zipper-sewing skills quite a bit since then, though they are still not my favorite things to sew.
ANYWAY - here's the finished result! I styled it to look very forties or fifties, again channeling my inner Nancy Drew. All of the different shades of brown look so fun to me!
(This was supposed to be a full-body shot, but I forgot to think about the lighting, and there's a really bad shadow on my face!)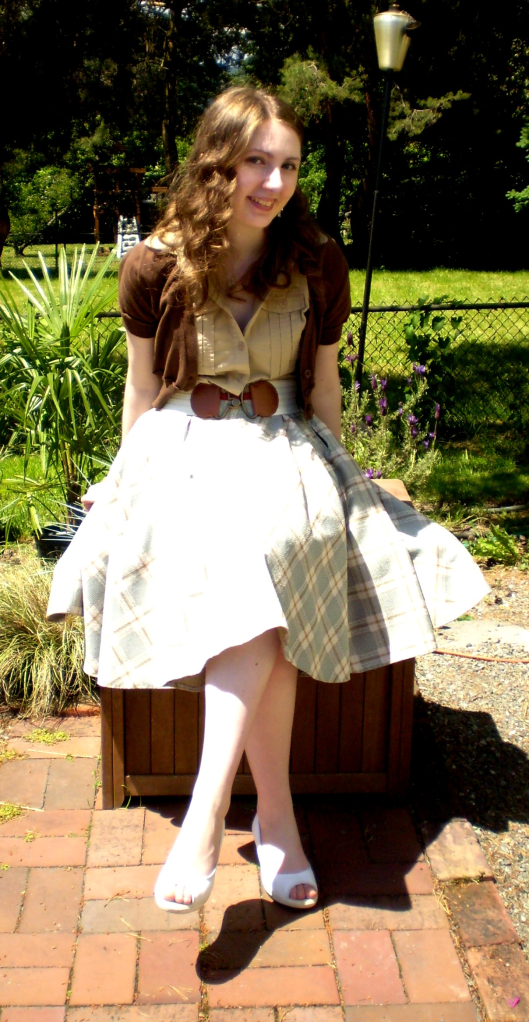 super cute, huh? The only thing about this is that this is the only top that I had that would match the skirt! I don't have any other shirts or blouses that really match...maybe I'll pick one up one of these days!
Have you ever made a circle skirt? I'd love to see photos of your projects!(:
Have a lovely day!
~Vicki