I do love vintage hankies, especially when they have pretty floral designs on them. When I went antiquing last month, I found a pair of very cute, lightweight hankies. One I've decided to use as a neck-scarf, but the other one was fraying at the corners, and I couldn't figure out what to do with it. I bought it anyway, since I couldn't resist the pretty blue flowers (my favorite color).
Then, yesterday when I was browsing Anthropologie's website (something I probably spend FAR too much of my time doing), I found this pretty thing: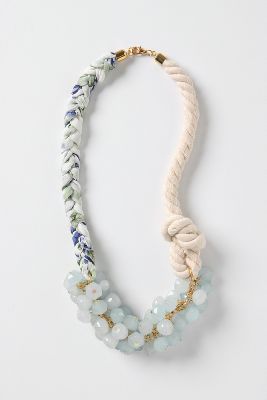 And I thought that the braided fabric looked exactly like that handkerchief. So I took out my beads and started to work. After an hour of pain-staking work (I'm not too good with pliers...), and some sewing and knotting, I came up with this:
Not quite the same, but I think I actually like mine better. =)
The funny thing about this is that the next day, when I went to see Flamingo Toes' final Anthro necklace tutorial, it was for this very necklace! Only she stayed more true to the original. What a coincidence! Anyway, if you want to see how hers turned out, go
here
.
And tomorrow's post is going to be a tutorial...which I'm still working on ideas for...but stay tuned for that!