Ok, time for another Anthro knock-off. I saw this necklace, and I thought, "Hmm...I could make that." And of course, that was just the beginning. A few hours later, I had finished my own lovely necklace.
Here is Anthropologie's version: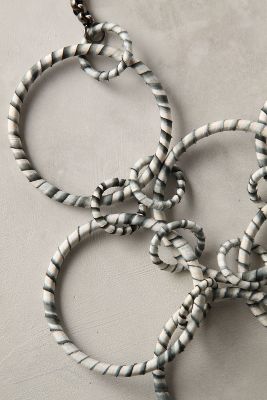 And here's mine:
After about forty out of focus pictures, this is the only one that was clear. Ha, I think it's because of my shaky hands. :P
Closeup:
I bet you can't guess what the rings are! I used a bunch of different key chain rings, then covered them with silver ribbon. The little rings are made out of wire. Nifty, huh?
Have a nice day!!